Product Description
Excavator Flexible Coupling To Hydraulic Pump For Engine Drive TLN32DL
 
Basic information:
| | |
| --- | --- |
| Classification 1 | Coupling |
| Classification 2 | Hydraulic Pump Parts |
| Packaging Details | Natural Package,As required |
| MOQ | 1 PC |
| Leading Time | 2-3 Working days after receiving the payment |
| Connection | Flange |
| Suitable | Excavator Engine Drive |
| Technics | Press |
| Brand Name | YNF/Y&F |
Product show as below:
 About us:
specialized in:
couplings, rubber mounts, gera parts, hydraulic seals and seal kits for hydraulic hammers, rock breakers, hydraulic excavators,wheel loaders, and JCB badkhoe loaders.
And, Our company also supply:
Engine parts, hydraulic piston pump and hydraulic travel motor, Swing motor assembly and hydraulic component parts, electric parts, etc. Hydraulic hammer breaker parts with piston, cylinder, chisel, through bolt, side bolt, top bush, front head bushing,accumlator, valve, etc.
We always try our best for all our customers and make it better and better. Welcome!
FAQ

Are There Specific Safety Precautions to Consider When Working with Drive Couplings?
Yes, working with drive couplings requires certain safety precautions to ensure the safety of personnel and the integrity of the equipment. Here are some important safety considerations when dealing with drive couplings:
Lockout-Tagout (LOTO): Before performing any maintenance or repair work on machinery with drive couplings, it is essential to implement a proper lockout-tagout procedure. This involves isolating and securing the power source and equipment to prevent unexpected startup during the maintenance process. Only authorized personnel should have access to the equipment during LOTO procedures.
PPE (Personal Protective Equipment): Personnel working on or near drive couplings should wear appropriate personal protective equipment, including safety glasses, gloves, and any other required protective gear. This helps protect against potential hazards such as flying debris or pinch points.
Proper Installation: During installation, it is crucial to follow the manufacturer's guidelines and instructions to ensure the drive coupling is correctly aligned and mounted. Proper alignment minimizes stresses on the coupling and associated machinery, reducing the risk of premature failure and potential accidents.
Regular Inspections: Implement a schedule for regular inspections of drive couplings to identify any signs of wear, misalignment, or damage. Addressing issues early can prevent unexpected failures and reduce the risk of accidents or production downtime.
Load and Speed Limits: Respect the specified load and speed limits of the drive coupling. Exceeding these limits can lead to catastrophic failures and pose safety risks to personnel and equipment.
Maintenance by Qualified Personnel: Complex maintenance or repair tasks on drive couplings should be performed by qualified personnel with relevant experience and training. Improper maintenance can compromise the coupling's performance and lead to safety hazards.
Temperature Limits: Some drive couplings have temperature limits for safe operation. Ensure that the operating temperature is within the recommended range to avoid material degradation and potential hazards.
Proper Lubrication: If the drive coupling requires lubrication, use the recommended lubricant and apply it as per the manufacturer's guidelines. Inadequate or excessive lubrication can impact the coupling's performance and increase the risk of failure.
Safe Distance: Keep a safe distance from rotating couplings and rotating machinery to prevent accidental contact with moving parts. Implement barriers or guarding to prevent unintentional access.
Adhering to these safety precautions ensures that working with drive couplings is done safely and efficiently, minimizing the risk of accidents and maintaining the longevity of the equipment.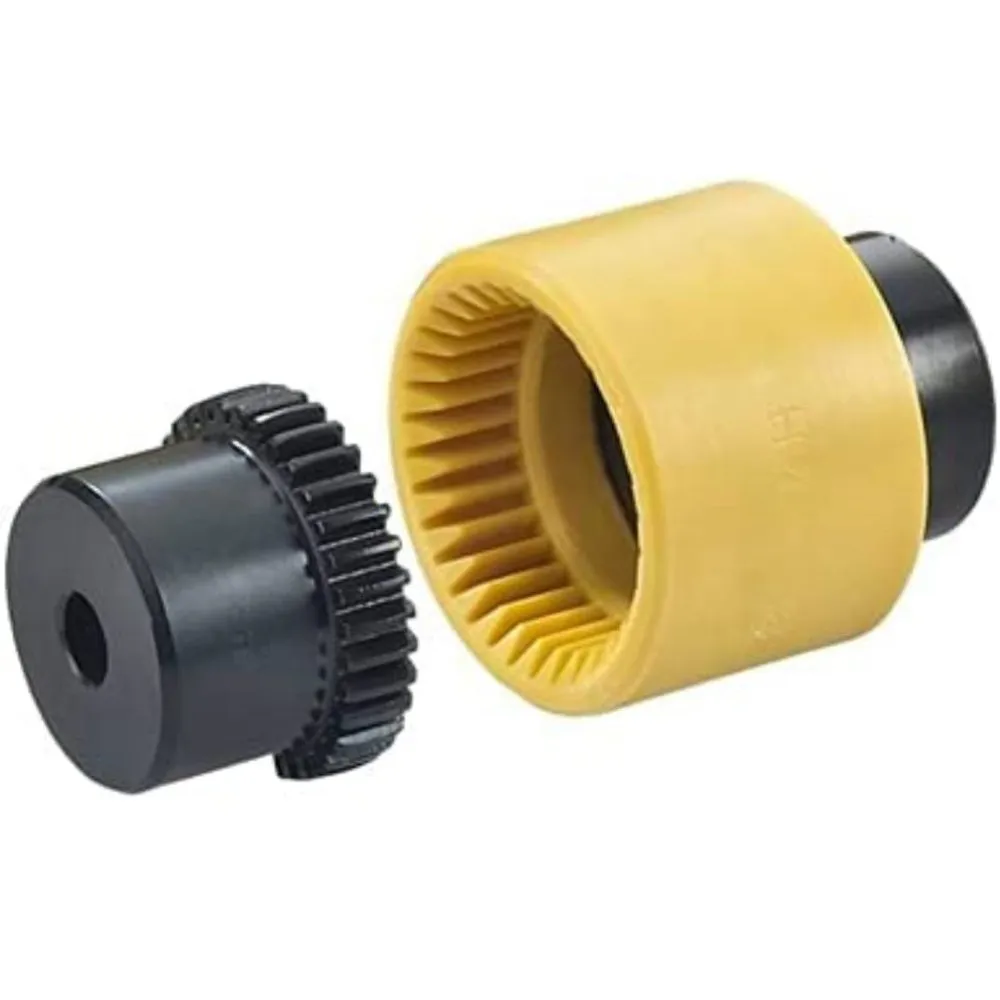 Exploring the Use of Elastomeric Materials in Flexible Drive Couplings
Elastomeric materials play a vital role in the design and function of flexible drive couplings. These materials are known for their unique properties, including flexibility, resilience, and damping capabilities, making them well-suited for various power transmission applications. Here are some key aspects of elastomeric materials in flexible drive couplings:
Flexibility: Elastomeric materials, such as natural rubber and synthetic elastomers like polyurethane and neoprene, exhibit high flexibility. This flexibility allows them to deform under load, accommodating misalignments and absorbing shocks and vibrations during operation. The ability to flex helps prevent undue stress on the connected machinery and ensures a smooth and reliable power transmission.
Damping: Elastomers possess excellent damping characteristics, which means they can absorb and dissipate energy when subjected to torsional vibrations and dynamic loads. This damping property is crucial in minimizing resonance and preventing harmful vibrations from propagating through the system. Couplings with good damping capabilities offer improved system stability and reduced wear on components.
Resilience: Resilience refers to the ability of elastomeric materials to return to their original shape after being deformed by torque or misalignment. This property ensures that the coupling remains functional even after experiencing temporary overloads or torsional stresses. The resilience of elastomers contributes to the longevity and reliability of the coupling.
Easy Installation: Elastomeric couplings are often designed with a simple and compact structure, making them easy to install and maintain. Their flexibility allows for quick assembly and disassembly, which can be advantageous during equipment maintenance and repairs.
Misalignment Compensation: The high flexibility of elastomeric materials allows the coupling to compensate for both angular and parallel misalignments between shafts. This ability to tolerate misalignments without transmitting excessive loads to connected equipment protects the machinery from premature wear and damage.
Cost-Effectiveness: Elastomeric couplings are generally more cost-effective compared to other types of couplings with elaborate designs. Their simple construction and use of elastomeric materials make them an economical choice for various industrial applications.
Elastomeric materials offer a compelling combination of mechanical properties that make them highly suitable for flexible drive couplings. When selecting a coupling for a specific application, considering the type and characteristics of the elastomeric material used is crucial to ensure the coupling meets the performance requirements and environmental conditions of the system.

What is a Drive Coupling and its Role in Mechanical Power Transmission?
A drive coupling is a mechanical device used to connect two shafts in a power transmission system. Its primary role is to transmit torque from one shaft to another while accommodating misalignments and absorbing shocks and vibrations. Drive couplings play a crucial role in transferring mechanical power efficiently and reliably between rotating components in various industrial applications.
The key features and functions of drive couplings include:
Power Transmission: Drive couplings are designed to transmit mechanical power from the driving shaft to the driven shaft. As the driving shaft rotates, the coupling transfers the torque to the driven shaft, causing it to rotate and perform the intended task, such as driving a pump, conveyor, or generator.
Misalignment Compensation: In real-world applications, shafts may not be perfectly aligned due to factors such as assembly tolerances, thermal expansion, or equipment settling. Drive couplings can accommodate angular, parallel, and axial misalignments between the shafts, ensuring smooth power transmission even under misaligned conditions. This capability helps to reduce stress on connected machinery and enhances overall system reliability.
Shock and Vibration Damping: During operation, rotating equipment often experiences shocks and vibrations that can be harmful to the machinery and reduce its lifespan. Drive couplings with elastomeric or flexible elements can dampen these shocks and vibrations, providing a smoother power transmission and protecting the connected equipment from excessive loads.
Overload Protection: In some applications, sudden torque spikes or overloads may occur due to process changes or unforeseen events. Drive couplings equipped with torque-limiting features can protect the machinery from damage by disengaging or slipping when the torque exceeds a predetermined threshold.
Reduced Maintenance: Drive couplings that require minimal maintenance contribute to the overall efficiency of the power transmission system. By reducing the need for frequent maintenance and lubrication, downtime is minimized, leading to increased productivity and cost savings.
Compact and Versatile Design: Drive couplings are available in various designs and sizes to accommodate different application requirements. Their compact and versatile design makes them suitable for a wide range of industries and machinery types, from small motors in automotive systems to large industrial drives in mining and manufacturing processes.
Overall, drive couplings are essential components in mechanical power transmission systems. Their ability to efficiently transfer torque while compensating for misalignments and absorbing shocks ensures reliable and long-lasting operation of rotating equipment in various industries.



editor by CX 2023-09-07