Product Description
Excavator Flexible Coupling To Hydraulic Pump For Engine Drive TLN32DL
 
Basic information:
| | |
| --- | --- |
| Classification 1 | Coupling |
| Classification 2 | Hydraulic Pump Parts |
| Packaging Details | Natural Package,As required |
| MOQ | 1 PC |
| Leading Time | 2-3 Working days after receiving the payment |
| Connection | Flange |
| Suitable | Excavator Engine Drive |
| Technics | Press |
| Brand Name | YNF/Y&F |
Product show as below:
 About us:
specialized in:
couplings, rubber mounts, gera parts, hydraulic seals and seal kits for hydraulic hammers, rock breakers, hydraulic excavators,wheel loaders, and JCB badkhoe loaders.
And, Our company also supply:
Engine parts, hydraulic piston pump and hydraulic travel motor, Swing motor assembly and hydraulic component parts, electric parts, etc. Hydraulic hammer breaker parts with piston, cylinder, chisel, through bolt, side bolt, top bush, front head bushing,accumlator, valve, etc.
We always try our best for all our customers and make it better and better. Welcome!
FAQ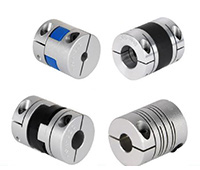 What are the Temperature and Speed Limits for Different Drive Coupling Types?
The temperature and speed limits for different drive coupling types vary based on their design, materials, and intended applications. Here are some general guidelines for temperature and speed limits for common drive coupling types:
Elastomeric Couplings: Elastomeric couplings, which use rubber or elastomer elements, typically have temperature limits ranging from -40°C to 120°C (-40°F to 248°F). The speed limits for elastomeric couplings are generally up to 5000 RPM, but this can vary depending on the coupling size and design.
Grid Couplings: Grid couplings are designed to handle higher torque and speed requirements. They often have temperature limits between -20°C to 100°C (-4°F to 212°F). The speed limits for grid couplings can range from 5000 to 8000 RPM, depending on the coupling size and grid material.
Gear Couplings: Gear couplings are known for their high torque capacity and can operate at higher temperatures. Their temperature limits typically range from -20°C to 150°C (-4°F to 302°F). The speed limits for gear couplings can vary widely based on the coupling's size and design, with some models capable of operating at speeds up to 10,000 RPM or higher.
Chain Couplings: Chain couplings are suitable for heavy-duty applications. They often have temperature limits between -20°C to 150°C (-4°F to 302°F) depending on the chain material. The speed limits for chain couplings can range from 1500 to 6000 RPM, depending on the chain type and size.
It's essential to consider the operating environment, load conditions, and coupling material when determining the suitable temperature and speed limits for a specific application. Exceeding the recommended limits can lead to premature wear, reduced performance, and potential coupling failure.
Manufacturers of drive couplings provide detailed specifications and operating guidelines for their products. It's crucial to consult the manufacturer's documentation to ensure that the selected coupling is suitable for the intended application and operating conditions.

Best Practices for Maintaining Drive Couplings
Maintaining drive couplings is crucial to ensure their optimal performance, longevity, and reliability in power transmission systems. Following these best practices can help you keep your drive couplings in excellent condition:
Regular Inspections: Conduct visual inspections of the drive couplings and associated components at regular intervals. Look for signs of wear, damage, or misalignment.
Lubrication: Some drive couplings require lubrication for smooth operation. Follow the manufacturer's recommendations regarding the type and frequency of lubrication.
Alignment: Ensure proper alignment of the shafts connected by the coupling. Misalignment can lead to premature wear and reduced performance.
Torque Monitoring: Monitor the torque transmitted through the drive coupling, especially in high-load applications. Avoid exceeding the recommended torque limits to prevent damage.
Torsional Flexibility: For flexible drive couplings, check the torsional flexibility to ensure it can accommodate torque variations and vibrations without failure.
Temperature and Environment: Consider the operating temperature and environment when selecting a drive coupling. Extreme temperatures or harsh conditions can impact performance and durability.
Replace Worn Components: If any part of the drive coupling shows signs of wear or damage, replace it promptly with genuine manufacturer-recommended parts.
Dynamic Balancing: For high-speed applications, ensure that the drive coupling and connected components are dynamically balanced to prevent vibrations and premature wear.
Follow Maintenance Schedule: Adhere to the maintenance schedule provided by the coupling manufacturer. Regular maintenance helps detect issues early and ensures smooth operation.
Proper Installation: Ensure the drive coupling is installed correctly and according to the manufacturer's instructions. Improper installation can lead to performance issues.
Keep It Clean: Maintain cleanliness around the drive coupling area to prevent the ingress of debris or contaminants that can cause damage.
Training and Awareness: Provide proper training to maintenance personnel regarding the maintenance and care of drive couplings. Create awareness about the importance of regular inspections and maintenance.
By following these best practices, you can prolong the life of your drive couplings, reduce downtime, and enhance the overall efficiency and reliability of your power transmission system.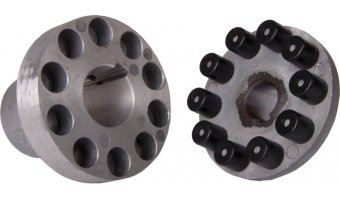 How does a Flexible Drive Coupling differ from a Rigid Drive Coupling?
A drive coupling is a mechanical device used to connect two shafts in a power transmission system. Drive couplings can be broadly classified into two main categories: flexible drive couplings and rigid drive couplings. Each type offers distinct advantages and is suitable for different application requirements. Here's how a flexible drive coupling differs from a rigid drive coupling:
Flexible Drive Coupling:
A flexible drive coupling is designed with an element that allows some degree of movement and flexibility between the connected shafts. This element can be made of various materials, such as elastomers, metal discs, or grids. The flexibility of the coupling element enables it to accommodate misalignments, shocks, and vibrations, making it ideal for applications where these factors are present.
Main Characteristics:
Misalignment Absorption: Flexible couplings can compensate for angular, parallel, and axial misalignments between the shafts, reducing stress on connected machinery and extending component life.
Shock and Vibration Damping: The flexible element of the coupling dampens shocks and vibrations, protecting the connected equipment from sudden impact loads and reducing noise and wear.
Torsional Flexibility: Flexible couplings can twist and bend, providing torsional flexibility to accommodate fluctuations in torque and prevent damage from torque spikes.
Energy Absorption: In high-torque applications, the flexible element absorbs energy and reduces peak loads, which can be beneficial for protecting the drivetrain.
Rigid Drive Coupling:
A rigid drive coupling, on the other hand, is designed to provide a direct and rigid connection between the shafts. It has little to no flexibility or movement in the coupling itself. Rigid couplings are typically used when precise shaft alignment is essential, and there is minimal misalignment or vibration in the system.
Main Characteristics:
Precision Alignment: Rigid couplings ensure precise alignment between the connected shafts, which is critical in applications requiring accurate positioning and minimal shaft deflection.
No Misalignment Compensation: Unlike flexible couplings, rigid couplings do not compensate for misalignments, so proper alignment during installation is crucial to prevent premature wear or damage to the equipment.
Torsional Stiffness: Rigid couplings have high torsional stiffness, meaning they efficiently transmit torque with minimal torsional deflection.
High Torque Capacity: Due to their solid construction, rigid couplings can handle higher torque loads compared to some flexible coupling types.
In summary, the choice between a flexible drive coupling and a rigid drive coupling depends on the specific application's requirements, including the degree of misalignment, shock and vibration levels, torque capacity, and precision alignment needs. Flexible couplings are suitable for applications with misalignments and dynamic loads, while rigid couplings are preferred for precise positioning and high-torque applications with minimal misalignment.



editor by CX 2023-09-07